Stylized Industrial Ship Unlit and PBR 1.0

Stylized Industrial Ship 3D Asset
This package contains low poly Stylized Industrial Ship Unlit and PBR
Report Abuse
Stylized Industrial Ship 3D Asset
This package contains low poly Stylized Industrial Ship Unlit and PBR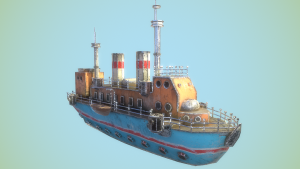 Mesh Info:
Mesh – 9342 Tris
Texture Info:
PBR
Albedo – 2048×2048
Metallic-Roughness – 2048×2048
Normal Map – 2048×2048
Unlit
Albedo – 2048×2048
This model has two different texture sets, including; and Unlit(Lightbaked texture) version.
You can use it in Mobile and PC, and VR games.
Specification:
Stylized Industrial Ship Unlit and PBR
User Reviews
Only logged in customers who have purchased this product may leave a review.
Vendor Information
Store Name:

HeadFinger

Vendor:

HeadFinger
No ratings found yet!
No product has been found!